The Sump Pump: Your Defense Against Runoff and Rain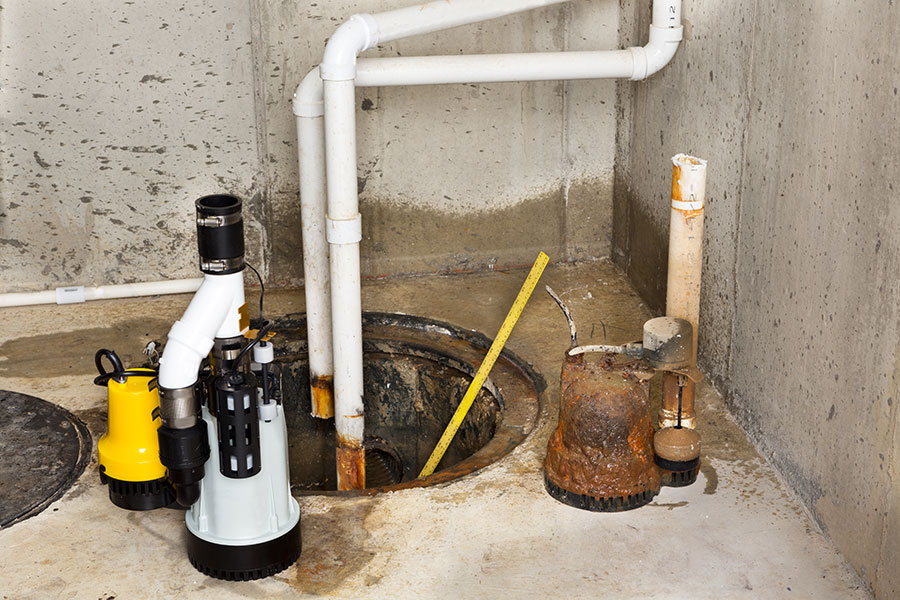 It's always good to have a reliable sump pump at home, especially if you have a basement or another low-level space into which groundwater can drain or flood.
As spring begins its approach and the snow continues to melt, a good sump system becomes particularly valuable as all of that water sinks into the earth and surrounds our home's foundation. Your sump pump will ensure that your home remains dry even as the melting water moves in.
RJ Kuhn specializes in sump pump installation, replacement and service for Oswego and its surrounding communities, including Aurora, Montgomery, Yorkville and Naperville. We can also assist you with a sump pump backup battery system, lift-station pumps and high-water alarms.
With that in mind, let's take a look at what you'll want to make sure is in order for your sump system with all of the melting snow, as well as the rain that will follow in spring.
Making Sure Your Sump Pump Is Properly Working
As you prepare to keep your home dry during the seasonal runoff, here are a few basic steps you can take to confirm your sump pump is serving you at its best when you need it to at your home in Oswego, Aurora, Montgomery, Yorkville or Naperville.
Ensure the sump pump is fully plugged in.
Take the lid off and, using a flashlight, see if the sump is clean and the inlet screens aren't clogged or plugged.
Pour water into the pump at the pace that water would normally flow into it. Watch the on/off switch and listen to the sump pump. Try to make it turn on and off at least twice. If something doesn't seem right, contact your sump pump professional for a closer inspection – you'll be glad you did, especially with the prospect of extra water outside.
Check the discharge pipe on the side of your home to ensure it's not shut or plugged and that it leads water away from the house.
As we've shared, your sump pump could be working hard at intervals to keep your home dry, so even if an initial at-home inspection suggests that all is in working order, continue to check in on it. A sump pump that's running often could fail unexpectedly, particularly if it's an older pump or one that hasn't been inspected or maintained in a while.
If at any point you notice or suspect something's wrong with your sump pump, don't let the issue linger – your home and belongings are too valuable, and the inconvenience and damage of flooding is something to avoid.
The Importance of a Sump Pump Backup Battery
Sometimes either your home or your local grid can lose power or a power line can go down. This can be particularly more likely during a big storm, which often includes a large amount of rain.
Your sump pump depends on electricity to operate in keeping the water out. If it loses power, it will stop and your home will no longer be protected. For this reason, it's vital to have a backup battery for the sump pump. The backup works by using a secondary pump that is installed right next to the main one. It will spring into action as soon as it detects any problems with the main sump pump.
If you already have a backup battery, make sure it's charged so the supporting power and sump pump will be ready if called upon. Once you've confirmed it's charged, shut off the power to the pump and the battery-charging system. Then test the backup system by pouring water into the sump until it turns on.
If this test reveals there might be something wrong with the system, let your sump pump professional know right away. On a similar note, if you don't have a backup system, consider installing one very soon to prevent the risk of seepage or flooding from the seasonal runoff and rain.
Contact RJ Kuhn: Community Sump Pump Installation, Replacement, Service
RJ Kuhn is always ready to serve and support when you need sump pump installation, replacement or service in Oswego, Yorkville, Aurora, Naperville or Montgomery. We can also answer questions you might have about sump pump cost. Simply give us a call at (630) 554-3336!
RJ Kuhn offers 24-hour emergency service when needed for our customers in Oswego, Yorkville, Aurora, Naperville or Montgomery.