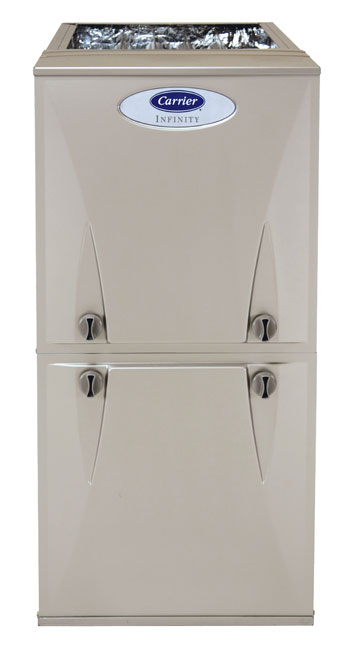 The cold of an Illinois winter can get just as extreme as the heat of an Illinois summer. When icy winds are blowing against the doors and windows, it's vitally important to have heating that keeps everyone in your home or business warm, safe and comfortable.
Serving the Fox Valley region since 1972, RJ Kuhn makes sure your heating system properly serves you when it's cold out. We support you with professional furnace installation as well as repair and maintenance for any furnace make and model.
RJ Kuhn can also help you become even smarter about achieving energy efficiency and getting the most from your heating investment at your home or office.
Heating Services: Installations
RJ Kuhn specializes in the installation of furnaces and heat pumps for heating system replacement as well as new construction. We will also assist you with determining the correct size furnace or heat pump you will need.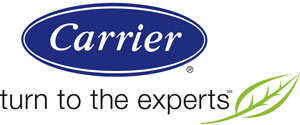 Carrier Modulating Gas Furnace with Variable Speed Motor

97.8% AFUE (annual fuel utilization efficiency)
Burner modulates based on outdoor temperature (the colder it gets, the more it opens and uses minimum gas to achieve thermostat set point). The blower varies its speed to always maintain a constant supply of air temperature.
The communicating furnace can display maintenance codes on the thermostat or send them to your mobile device.

Carrier Two-Stage Gas Furnace with Variable Speed Motor

Multiple sizes in 96% AFUE as well as 80% AFUE models
Two-stage burner means only 60% of burner used in the first stage. Second stage will bring on 100% of the burner for those really cold days. Variable speed blower ensures just the right amount of airflow for the burner position.
Two-stage draft motor ensures you only use the power you need to provide proper venting.

Carrier Single-Stage Gas Furnace with ECM (electronically controlled motor)

Multiple sizes in 95% AFUE as well as 80% AFUE models
Single-stage gas valve offers simplicity which adds to reliability.
ECM blower saves electricity by utilizing a soft start while it quietly moves the conditioned air through your ductwork.
Proficient Heating Service & Furnace Repair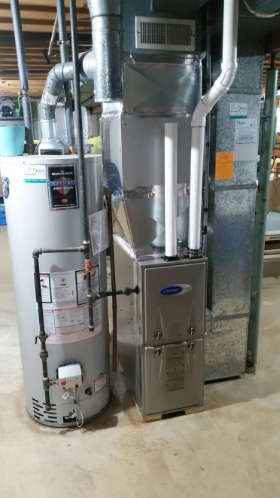 When the winds of winter do swoop in, ideally you will have had your heating system inspected and maintained ahead of time. Regular, proper maintenance is the best way to ensure system performance and longevity.
However, sometimes your heating may sputter or fail because of system age or the amount of time since the last inspection. Clues that your heating isn't working right might include strange noises and odors, no warm air from the vents or an unresponsive thermostat. If you find yourself in this situation, you have a swift and efficient solution nearby for the service or repair that you need.
Because we supply our trucks with the right specialty tools and equipment, we can often make on-the-spot furnace repairs where before a more-expensive replacement might have been the only viable option. This has often allowed us to save our customers from hundreds to thousands of dollars.
We are proficient with fixing and maintaining all brands of furnaces, and with our flat-rate residential pricing, you know the fixed cost of work before it begins. Should you ever need a new furnace, we also can help you choose the right system for your budget, heating requirements and energy-efficiency goals.
Contact RJ Kuhn whenever you need:
scheduled furnace maintenance and inspection

furnace repair, replacement or installation

boiler maintenance, repair or replacement

design, installation or maintenance for radiant heating
Our Kuhn Care maintenance program further offers special member benefits such as extended service hours for avoiding overtime charges and 30% savings on service-call parts and labor. Be sure to inquire about it!
Heating: Clean Air & Proper Humidity
Your inside air during winter is influenced by more than proper heating. Air purity and humidity also play roles in comfort and quality.
The right balance of moisture in your air contributes to easier breathing and greater relaxation at home. It further helps prevent dry skin and makes your body feel warmer as it does in the summer. Proper humidity further helps limit the growth of bacteria, viruses, fungi and mites; prevent static electricity; and limit the shrinking of wood surfaces.
Clean air also has gained greater relevance since the pandemic began. Proper air cleaning at your home or office involves more than capturing unwanted airborne particulate and biological matter – it requires the killing of these items as well.
To ensure you are breathing truly clean air, RJ Kuhn can help you establish a heating system with UV light for killing biological material and an efficient media air cleaner for capturing particles. We can also provide you an estimate to install the proper humidifier for your home or office. Even if you use radiant heating, we have a solution for you!
When You Need Heating Service Soon, Contact RJ Kuhn
At RJ Kuhn, we look forward to every chance to serve as your community heating professionals, including for furnace repair. If you have questions or need heating service, simply give us a call at 1-800-FIX-DRIP or (630) 554-3336.