Cooling & Air Conditioning
As you know, an Illinois summer can get extremely hot. When you add extra humidity, a heat wave can become nearly unbearable. Having properly functioning air conditioning is vital for comfort and even safety in and around the Fox Valley region.
AC Services: Installation
RJ Kuhn specializes in the installation of air conditioning for system replacements and new construction. We also assist you with determining the proper type and size of air conditioning unit.
As a Carrier® Authorized Dealer, we install air conditioning systems known for their performance and quality, including: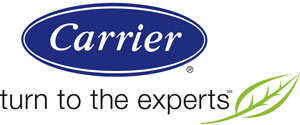 Carrier 5-Stage Condensing Unit

Uses only capacity needed to cool your home depending on outdoor conditions
Can dehumidify your home without lowering temperature

Carrier 16 SEER Condensing Unit

Single stage in a compact unit for significant energy savings
Qualifies for ComEd rebates

Carrier 13 SEER Condensing Unit

State-of-the-art performance in a compact system
Price competitive

Carrier "N" Coil

Greater coil-face surface area for optimal heat transfer and dehumidification
Slower velocity of refrigerant in the coil to eliminate deterioration of copper tubing
AC Services: Repair
Your air conditioning works hard in keeping you cool. Whether because of age or limited maintenance, a system can eventually malfunction. If you start to notice irregularities such as strange smells or noises, frequent on-and-off cycling or no cool air blowing through vents, these are all indicators it could be time for an AC repair.
As soon as you make us aware of a problem, we'll have a certified technician out to inspect it. We've been serving your area since 1972, so we are familiar with the many different AC units that serve local homes and businesses.
We will ensure you understand what's working correctly with your central air conditioning and what may not be. We can repair your AC as needed or, if the problem is a larger, more expensive one, help you determine if a system replacement makes more sense. Our assessments often save our customers from hundreds to thousands of dollars.
AC Services: Maintenance
Periodic, proactive maintenance is vital to air conditioning performance and longevity. In many cases it's also required to keep a manufacturer's warranty active.
Among many important steps, an RJ Kuhn inspection of your air conditioning system includes checking:
oil motors and the blower for proper lubrication of moving parts
the sub-cooling or super heat to ensure the unit is charged to the right specifications
the condenser coil for full-efficiency airflow
amp draws on motors to prevent potential system failure
the condensate line to confirm no blockage and correct water flow to the drain
Our Kuhn Care maintenance program further offers special member benefits such as extended service hours for avoiding overtime charges and 30% savings on service-call parts and labor. Ask us for more details!
AC Services: Clean Air & Proper Humidity
Clean air has gained greater importance since the pandemic began. Proper air cleaning at your home or office involves more than capturing unwanted airborne particulate and biological matter – it requires the killing of these items as well.
To ensure you are breathing truly clean air, RJ Kuhn can help you establish an air conditioning system with UV light for killing biological material and an efficient media air cleaner for capturing particles. The system also can be controlled by basic programming or WiFi, as well as include remote sensors and temperature averaging.
Proper humidity likewise influences your indoor-air quality. The right balance of moisture in your air contributes to easier breathing and greater comfort. RJ Kuhn can provide you with an estimate to install the proper type and size of humidifier for your home or office.
When You Need AC Service Soon, Contact RJ Kuhn
RJ Kuhn's AC repair, installation and maintenance ensure you're cool and relaxed when the temperatures rise. Call us at 1-800-FIX-DRIP or (630) 554-3336 today to speak with an expert about what you need for your home or office!
24-hour emergency air conditioning services are available.