Properly functioning heating and cooling is vital to your home or office during Illinois' changing seasons. RJ Kuhn specializes in helping you keep your rooms and spaces comfortable all year long.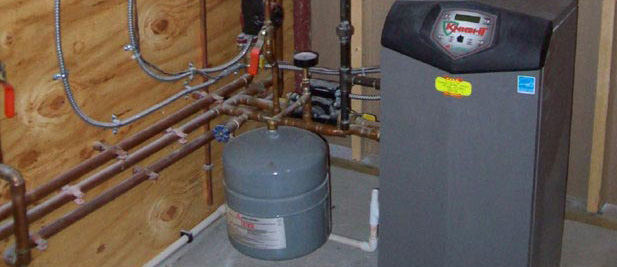 Our services include:
heating and air-conditioning repair and replacement
scheduled maintenance and inspection
humidifier service and installation
boiler maintenance, repair and replacement
radiant heating–system design, installation and maintenance
We reinforce our HVAC service with the qualities we know are important to you:
timely response & attention. You don't want to be stuck without AC in summer or a faulty furnace in winter. As your community heating and cooling specialists, we remain equipped and prepared to serve you swiftly – including for emergencies.

versatility. HVAC systems can range greatly, especially when you compare a new system with one built 20 years ago. You need HVAC service professionals who can repair or maintain your particular system with knowledge and skill. Our precise assessments often save our customers hundreds and even thousands of dollars.

focus on safety. With its complex circuitry and many interrelated parts, HVAC systems are not meant for guesswork and risk-taking. True service includes every step and precaution to keep both you and HVAC personnel protected from hazards.
We also use only components, tools and equipment that we have determined will ensure the proper results and performance for your HVAC service and repairs.
HVAC Service: Heating
As a homeowner, you know that producing steady, proper heat from your furnace requires more than turning it on. Your heating system is made of many moving, interdependent parts that require proper attention and maintenance.
Should you notice a problem with your furnace, such as weak airflow, no warm air, or unusual noises or smells, RJ Kuhn's specialists can identify the source of the problem and provide the furnace repair that you need. Our HVAC service also includes annual furnace inspection, cleaning and maintenance for greater system life and performance.
HVAC Service: Cooling
When it's hot out in the Fox Valley region, your air conditioning protects you from what can be stifling heat and humidity. You can help reinforce your system each spring and summer with basic steps such as checking the air filter and keeping air vents clean and unobstructed.
Sometimes, however, your system might run into deeper problems, especially if it hasn't been inspected and maintained in a while. For example, if it begins to leak water, make strange noises or cycle on and off much more often, you'll need air conditioning services to promptly diagnose and repair the issue.
RJ Kuhn's technicians are always ready with the skill and the tools for your solution. We also serve you as a professional community friend. We've been installing, repairing and maintaining the region's heating and cooling systems since 1972, so we know a thing or two about the area! We're also available for emergency service.
When You Need HVAC Service Soon, Contact RJ Kuhn
For heating and cooling that keeps you comfortable at work and at home, contact RJ Kuhn at 1-800-FIX-DRIP or (630) 554-3336. We'll be glad to hear from you, answer your questions and be out to help you if you need us.