Anyone who lives in Plainfield (IL) knows that it's a wonderful place to call home. It's also a Midwest community, meaning the summer can get pretty steamy, especially when you add the high humidity. It's not always comfortable or even safe to be outside at times, which is why it's so important that your indoor cooling system is properly working.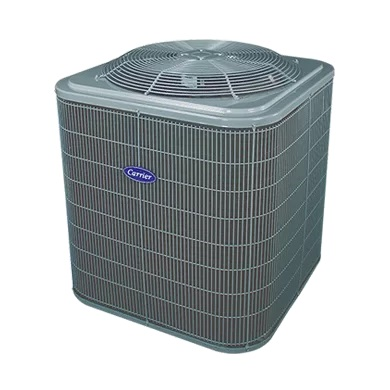 If you've found us here, there's a chance you have a question or a concern about your home cooling. At RJ Kuhn, we provide Plainfield homeowners with specialized cooling service and consultation for ensuring high-performing, cost-controlled system operation.
We've been supporting Plainfield with professional cooling services since 1972, so we know the village's neighborhoods well. We also work with all makes and models of air conditioners.
RJ Kuhn can help you maintain your cooling system in Plainfield and repair or replace it as you might need. Our assessments often save our Plainfield customers from hundreds to thousands of dollars.
Cooling for Plainfield (IL): Schedule Maintenance
Maintenance matters for your cooling system's performance and longevity in Plainfield. Scheduling an inspection and tune-up with RJ Kuhn at least once a year will benefit you in many different ways.
Prepare the system for late spring and summer. Just a few vital steps include cleaning the condenser coil for full efficiency and capacity; cleaning any remaining leaves or twigs from fall that can damage the fan or the coil; and ensuring the condenser is level after the ground has frozen in winter and then thawed in spring.

Avoid minor problems before they become system failures. If your cooling is low even a few ounces of refrigerant, you'll know it when the temperatures soar toward triple digits. We'll ensure you have the proper charge of refrigerant by making sure the operating pressures are correct. We'll also remove any insects that may have nested in the contactor before they can cause an electrical short. We'll likewise check the wiring for any exposed copper that could lead to a short. We'll ensure the dual capacitor has proper output for starting your cooling system consistently too.

Save money. A clean and well-tuned-up home cooling system will operate according to the manufacturer's stated efficiency. A dirty or neglected system likely will not and will more often lead to higher repair bills and utility costs. If a capacitor needs replacing, doing so during preventive maintenance will save you money you would otherwise spend on a diagnostic charge and replacement fee when the cooling system is failing later.
Plainfield (IL) Cooling: Be Proactive
At RJ Kuhn, we want you to stay comfortable and safe with proper cooling all season long. Our support for Plainfield homeowners includes helping you be a fully informed consumer and a self-advocate for avoiding unneeded expenses and inconvenience.
Be aware of any system irregularities such as strange smells or noises, frequent on-off cycling and no cool air blowing through your vents. These all indicate that your cooling is beginning to falter. If you suspect or recognize a problem sign, let us know right away and we'll inspect your system promptly.
An RJ Kuhn technician can both identify the issue and provide the solution. We will help you determine if your cooling system will benefit most from a repair or if a system replacement would make more financial and practical sense.
Plainfield (IL) Cooling: Repair or Replace
Some factors to note when you are considering a cooling system repair or a cooling system replacement may include:
system age. How old is your cooling unit? The usual lifespan of today's residential air conditioners is 12 to 15 years.

warranty. Are any of the system parts still actively covered?

refrigerant type. If there is a leak and the system still uses R-22 refrigerant, replacing the discontinued coolant is costly. Many of the coils for R-22 also are hard to find. In older units, leaks tend to develop in the U bends of coils, which are often not repairable.

living plans. How long do you intend to stay in your Plainfield home? If not much longer, sometimes a cooling repair is more economical than a full replacement. However, while a repair may make a failing unit operational, the system's condition could become an issue when it's time to sell. Because a condensing unit can suggest how well a home has been maintained, a potential buyer may look for concessions.
If you will be installing a new cooling system, we can help you choose the right type and size of unit according to your space-cooling requirements and your budget.
Cooling Services for Plainfield (IL): Friendly, Efficient Local Support
RJ Kuhn's staff are here to help keep you comfortable, safe and relaxed during Plainfield's hot seasons. Whenever you have a question or a concern about your cooling, just let us know! We'll serve and respond to you as a dedicated local resource should. To speak with a specialist, just give us a call at (630) 554-3336.
24-hour emergency cooling service available for Plainfield customers when needed
Ask about our Kuhn Care Maintenance program with exclusive member savings and service