Yorkville, IL Air Conditioning Repair and Cooling
As you know, the seasonal heat can get stifling in Yorkville. That's when you appreciate how much you rely on a cooling system that works as it should.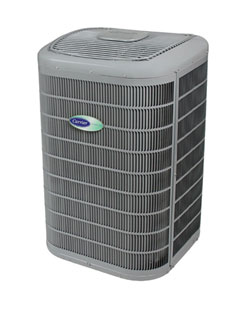 RJ Kuhn specializes in cooling systems and air conditioning repair for Yorkville homes and businesses. If your cooling is malfunctioning or you believe it could use an inspection or tune-up, we are ready to serve you.
We've been in your area since 1972, so we're familiar with Yorkville's different cooling systems. With RJ Kuhn, you understand what's functioning correctly with your system and what isn't. If something is wrong, we can determine whether air conditioning repair is cost effective or the unit should be replaced. Our assessments often save our Yorkville customers from hundreds to thousands of dollars.
SMART COOLING-SYSTEM MAINTENANCE FOR YORKVILLE, IL
If you're attentive to finances, you know a modest investment in cooling-system maintenance can prevent much greater costs of system repair or replacement. We can provide you with thorough, detailed inspections in which we:
check oil motors and the blower for proper lubrication of moving parts
test the dual capacitor to confirm fan motors start correctly
clean the condenser coil for full-efficiency airflow
check the contactor to ensure insects haven't nested in it
check wiring connections to look for signs of mice, which can cause unsafe operation
Plus, as our Yorkville customer, you can join our Kuhn Care maintenance program. Leading benefits include 30% savings on service-call parts and labor plus extended service hours for avoiding expensive overtime charges. We offer you 24-hour emergency service as well.
NEW COOLING EQUIPMENT FOR YORKVILLE, IL
If you need new equipment for your Yorkville cooling system, you have access to the latest choices for efficient operation:
Carrier® 5-Stage Condensing Unit (uses only capacity needed to cool your home depending on outdoor conditions; can dehumidify your home without lowering temperature)
Carrier 16 SEER Condensing Unit (single stage in a compact unit for significant energy savings; qualifies for ComEd rebates)
Carrier 13 SEER Condensing Unit (state-of-the-art performance in a compact system; price competitive)
Carrier "N" Coil (greater coil-face surface area for optimal heat transfer and dehumidification; slower velocity of refrigerant in the coil to eliminate deterioration of copper tubing)
YOUR DEDICATED NEIGHBORHOOD PARTNER FOR YORKVILLE COOLING AND AIR-CONDITIONING REPAIR
We help keep you relaxed and comfortable when the temperatures rise. Call us at (630) 554-3336 today to speak with a specialist about our cooling solutions and air-conditioning repair for Yorkville, IL. Ask about our Kuhn Care program too!
All plumbing and septic installers licenses; backflow certification
Member: Plumbing Contractors Association